.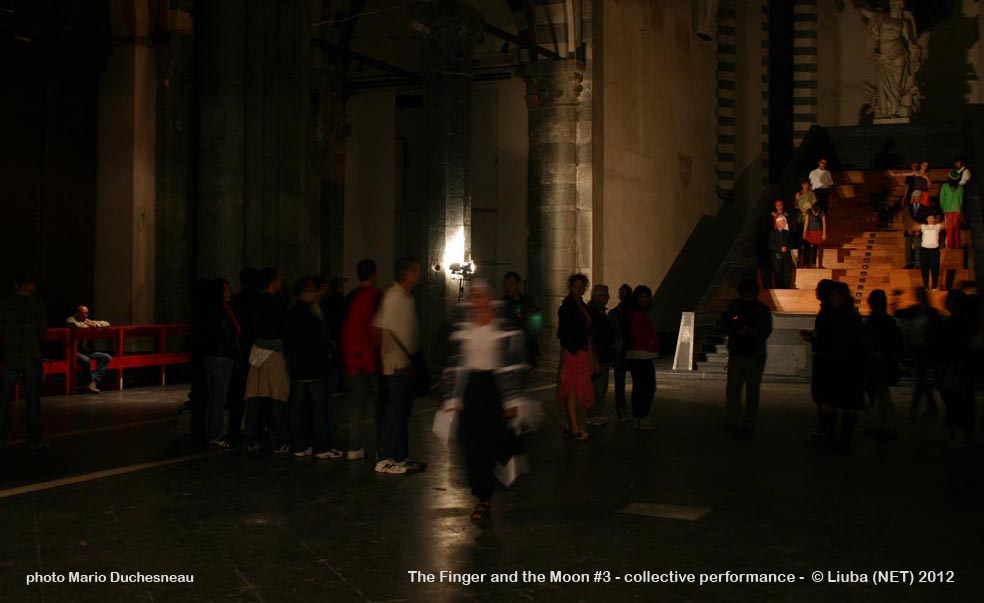 (italiano in fondo)
I have to be honest: I've been very very happy for the results of the collective performance in Genoa and for the enthusisastic participation of people, either as performers and as public. It has been a long long work of preparation, taking more than one year long, from the idea of the project to the curator and museum involment and agreements,  from the anthropological research and contact of various religious groups in the city to the performance outfit creation and production, from the performance direction to the set up of the installation. It has been a long work, helped by people who worked, volunteered and donated founds to accomplish this goal. Integration and acceptance of different religions, spiritual importance in life, with an artistic – and neutral – point of view.
I find it very interesting to bring art into the city, into the people's life and to gather people to be part of the performance and the piece. Performance art it's not theatre, everypeople were here not to act but to be natural and spontaneusly themselves.
There has been many difficolt and tough moments as well as many problems and obstacles. The game was not easy, and the objective was very high and ambitious. Many people were interested in the idea, but it was not so as much easy to accept to participate to the performance sharing place and meditations with people of different faiths.
I had 12 people performing with me, and among them there were muslims, baha'i, sikk,  hindu, jewish, christians, atheists, pacifists. Many people and groups did approve and adhere to the project but could not be present on that day, and many other people participated as public, sharing emotions and energy.
It has been a very intense experience for everybody. I am happy and a bit proud too. the task was not easy and we win.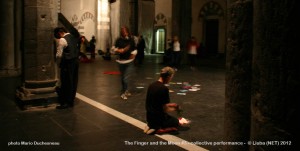 Devo essere sincera: sono stata molto contenta dell'esito della performance collettiva che abbiamo fatto a Genova e dell'adesione entusiasta di molte persone. E' stato un lavoro lungo più di un anno, dall'ideazione al coinvolgimento del curatore e del Museo, dalla ricerca antropologica al lavoro sul campo, dalla strutturazione alla regia.
Mi interessa molto lavorare in progetti dove la gente comune, gli abitanti di un posto, diventano i protagonisti e i cointerpreti della performance. Mi piace l'idea di un'arte che è fatta di persone, in cui ciascuno diventa parte dell'opera. In più, se aggiungiamo che queste persone che mi ero ripromessa di portare a partecipare alla performance dovevano essere di diverse fedi religiose e di diversi credo, si vede subito come questo progetto non fosse così facile e anzi molto ambizioso.
Ci sono stati momenti molto difficili, di sconforto, di fatica, di dubbi e di ostacoli. Però diciamo che non potevo e non volevo lasciar perdere, per la forza con cui credevo in questo progetto, ma anche in onore di quei donatori che hanno contribuito a sostenere il progetto, chi con poco chi con molto. per cui ho continuato a tirarmi su le maniche, stringere i denti e lottare, con l'aiuto di molte persone, e devo ringraziare tutti se il bersaglio è stato centrato e la performance riuscita, con pure molta partecipazione (dato l'argomento delicato del progetto la realizzazione della performance non era assolutamente scontata…)
A fare la performance insieme a me sono venute 12 persone, tra le cui musulmani, baha'i, sikk, induisti, ebrei, cristiani, atei, pacifisti. Molte persone sono venute come pubblico, partecipando emotivamente all'evento dall'esterno, lasciandosi coinvogere dalle videoinstallazioni e dalla performance. Molti altri hanno aderito ma per impegni personali non hanno potuto essere presenti quella sera.
E' stata un'esperienza umana, emotiva, spirituale e artistica molto intensa per tutti. Sono felice e sono anche un pizzico orgogliosa, poichè posso dire che è stata una vittoria.