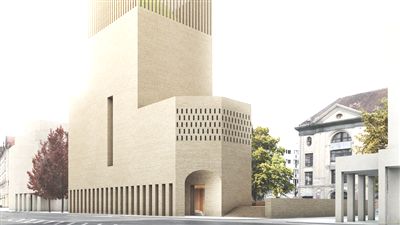 A house of prayer and learning for Jews, Muslims and Christians is planned for Petriplatz in Berlin.
To launch the project, the Jewish Community of Berlin, the Abraham Geiger College Potsdam, the Forum for Intercultural Dialogue and the Evangelical Church Association St. Petri-St. Marien founded an official association called The House of Prayer and Learning at Petriplatz Berlin.
Inter-religious dialogue
The new building should rise from the foundations of the former Church of St. Petri in Berlin Mitte. Three different spaces are planned in which prayer services for Jews, Christians and Muslims can be held. The three spaces will be joined by a hall where festivals and possibly even religious ceremonies can be celebrated together.
The jury awarded the first prize to the Berlin architect office Kuehn Malvezzi. Their winning design takes inspiration from the structure of the former Church of St. Petri. With its light brick façades and a 44-meter (144-foot) high tower, the proposed prayer house looks a bit like a fortress.
But slick geometric forms are to dominate the interior, and a two-storey domed hall will serve as a shared learning space.
"The fourth space constitutes a public space stretching between the three religions. It is a space for understanding and debate. Dialogue has something to do with a certain type of limitation. The project also aims to show where the differences lie," one of the architects, Wilfried Kuehn, told DW.
http://www.dw.de/berlin-plans-prayer-house-for-three-religions/a-16314461
An exhibition currently shows the plans for the proposed House of Prayer and Learning
The former Church of St. Petri
Archeological treasures
Gregor Hohberg, minister at the Evangelical Church Association St. Petri-St. Marien and chairman of the Petriplatz association, is pleased with the design. But he emphasizes that an "amalgamation" of religions is not really intended, rather "we want much more to learn how to approach one another with dignity and respect."
Today, Petriplatz is little more than a fenced-in piece of scrubland. Until five years ago, the site was a miserable-looking car park. One lonely street sign read, "Petriplatz." But that changed when the land was cleared in 2007.